Within a few hours of completing the necessary steps my profile began to show for all the articles I wrote. If you haven't established authorship using your Google+ account I suggest reading How to Show Your Author Photo in Google Search Results. For those that have had authorship showing for some time until recent, maybe this blog post can help.
The Problem
A few weeks ago by pure chance I noticed articles on my employer's blog stopped showing authorship markup in the SERP's. Throughout the problem my picture always displayed when testing links in the Rich Snippet Tool. My company happens to use Google business email services, so by default my business email address gives me access to Google services. Please keep in mind there is a difference between rel =author and rel =publisher. Along with the Google+ business page I also have a Google+ user profile associated with my employer's Google Plus account. Therefore, I began building my businesses Google+ user profile and linked this profile to my employer's blog. I appeared in SERP's almost instantly.
Fast Forward
The past month or so my authorship markup stopped showing in Google search engine results. I realize there is no guarantee it will show, but I found it odd that I began to have problems on every search I performed. I checked everything I could think of, but no luck.
I changed my profile picture. It appears a bad photo could trigger a problem. I've used a black and white image for a long time without issue, but after reading Google Author Pic Not Showing Up? Solution I thought maybe I fell out of favor with Google guidelines so went to a color photo.
Coincidentally, I added a bio box to blog posts a few months ago containing my personal Google+ profile. I thought having a Google Plus business user profile link in the header and my personal Google Plus profile in my bio box could confuse Google. However, after research it appears Google only verifies the first Google Plus profile it crawls on a website.
I removed my personal Google+ profile from my bio box. NO LUCK….
Solution
I removed the Google+ link for my business user profile on my company's blog. Then, on my Google Plus business user profile I removed contributor links connecting my business profile to my company's blog and my verified business email address (not sure email removal mattered).
I added links on my company's blog to my personal Google Plus account and vice versa. In the contributor section I added both www and non-www links to my personal Google+ account. As the image shows I still have a contributor link connected to my personal blog.
I received the Google verification email confirming authorship status. After receiving the confirmation from Google to my personal email account, that authorship status was active, I manually checked the results with GREAT SUCCESS!
UPDATE: After I was 99% sure I solved my problem I uploaded a different profile image then what is pictured below.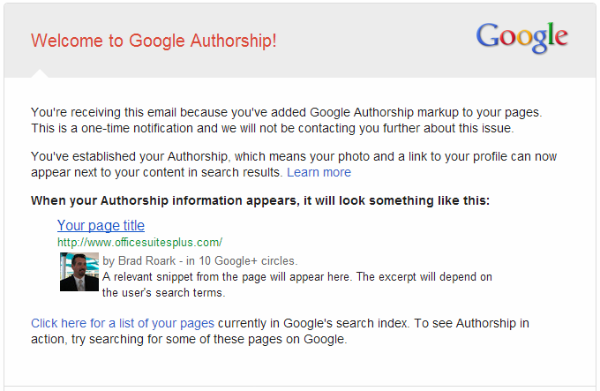 I now show in the SERP's for my personal Google+ profile on both my personal and employer's blog posts.